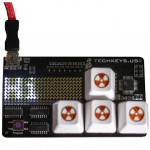 This project is next generation business card for TechKeys. The card is user-programmable 4-key keyboard with a 24x7 intensity-graded LED display, where each of the keys can be assigned a single letter or a macro. The user can solder four Cherry MX switches, which will perform functions that can be programmed using a simple user interface. The card has a builtin macro editor and also features a hidden tetris game.
You can purchase the finished product here:
http://techkeys.us/collections/accessories/products/techkeys-programmable-keyboard-business-card.